| Main Page | Signup | Channel | Edit | Settings | Social | Upload | Playlist |
| Enhancements | Settings | Analytics | Subscritions | Video Editor | Inbox |
| Watch Later | History | Favorites | Likes | Upload | Browse | Tips and Tricks |
| Partnership | Captions | Annotations | Video Manager |

TIPS:
1.The title should be what's about the video and have it as long as possible. YouTube will let you know if it's too long. Even having your city and state in the title will help people fing it.
2.Have http:// at the beginning of any URL's you have in your description, because if it's not http://, then it won't be clickable.
3.Add as many tags as possible and make sure they are related to the video. Have your city, county, surrounding towns and state in the description. Also have the terms: massage, massage therapist, massage therapy and others in the tags.
4.Videos are starting to show-up in search engines, so add as much information to the "Title", "Description" and "Tags" as possible.
5.Never upload your videos directly to your website, because they will load slow. Make sure you embed them from YouTube and they will load quick.
6.Thumbnail and titles are the first two things people see, before they view your video, so make sure they are interesting.
Edit Page

Title
The title is one of the first people see and it's important to have it as descriptive as possible. The more interesting it is, the more than likely someone will view it too.
Description
The description is what the video is about and it's important to have as much information in there as possible. Always have http://www.massagenerd.com at the first thing and not www.massagenerd.com, because without the http:// at the beginning, it won't be clickable.
Tags
You can have upto 500 characters in the tags and try and have as many as possible. Do not add tags that do not represent your video, because that is called "Tag Gaming" and YouTube can pull your video for that.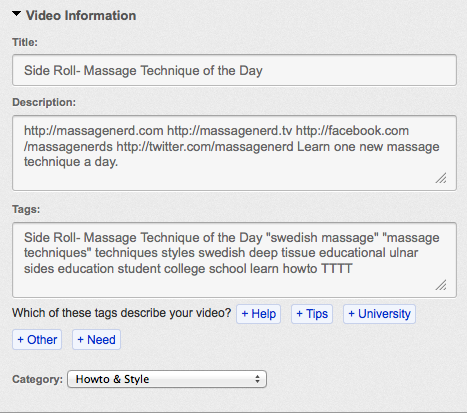 Thumbnail
You will have the option to choose one of 3 thumbnails for your video and pick one that isn't boring. If you are a YouTube partner, then you can upload your own thumbnail. Thumbnails are the first thing people see, so make it GREAT!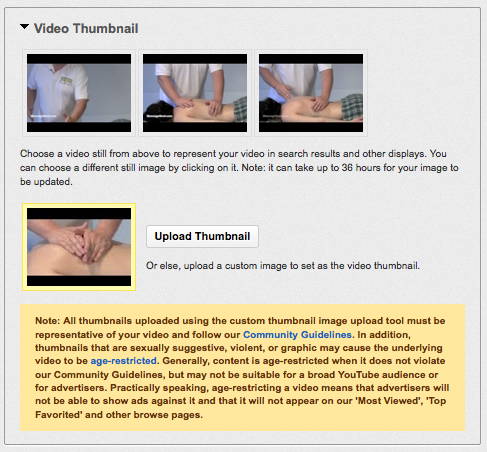 Privacy
You can change your privacy at any time and the unlisted one mean only people with the link to the video, can view the video.





License
The Creative Commons give people permission to use you video in their own videos. The standard one means youtube can use it in their advertisments.





Comments
You can easily change how people can comment on your videos. Most people check "Allow all comments with approval only".





Comment Voting
This will allow people to thumb up a comment.





Video Responses
Sometimes people want to respond with their own video, in response to yours.





Ratings
This will allow people to like you videos and if you check "Don't", then people can't like or dislike them.





Embedding
It's really important to allow people to embed your videos on their website. If you turn it off, then you can't embed your own videos.





Syndication
This gives people permission to view your videos on TV's or mobile devices. Most people click "Yes".





Content Ratings
You can choose what ratings your video is.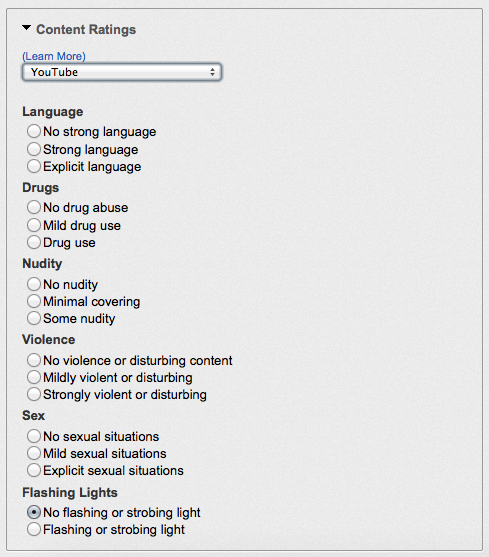 Date and Map
Here you can add when your video was made and also the location of it. Most people don't add anthing to this area.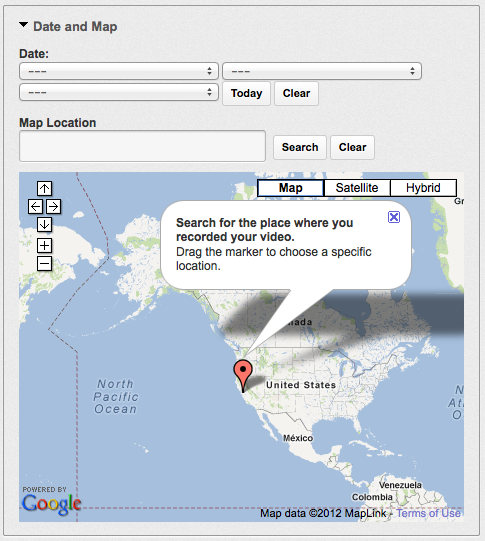 Newsletter Sign-up